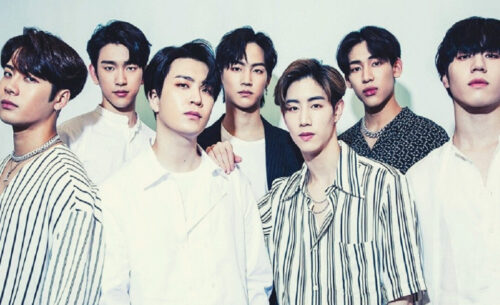 The group officially debuted in January 2014 with the release of their first extended play Got It? The EP peaked at number 2 on Korea's Gaon Album Chart and number 1 on Billboard's World Albums Chart. GOT7 gained attention for their stage performances with elements of martial arts tricking.
2009 to 2013: Formation
Among all the GOT7 members, JB and Jinyoung were the first to become trainees in JYP Entertainment after passing the label's open auditions in 2009. The following year, Mark and BamBam were scouted by agency representatives in Los Angeles, USA and Bangkok, Thailand, respectively. Yugyeom followed suit after he was offered an opportunity at his dance school to become a JYP trainee. Jackson also succeeded in the overseas audition in Hong Kong in December 2010, but didn't start his training until the summer of 2011.
JB and Jinyoung, then known by the stage name Junior, debuted as actors in KBS' 2012 television drama Dream High 2. In May of that year, they also debuted as the pop duo JJ Project with the song "Bounce". They also appeared once again as part of the cast of the 2013 drama, When A Man Falls in Love.
Mark, Jackson, BamBam, and Yugyeom prepared to debut together as a group and made their first television appearance on the fourth episode of Mnet's survival reality program WIN: Who Is Next, which aired on September 6, 2013.
Youngjae was the last member to join the group after training for seven months.
2014: Official Debut in South Korea and Japan
On January 1, 2014, JYP Entertainment officially announced GOT7's debut, the agency's first boy group since 2PM in 2008. They were described as a hip-hop group that incorporates martial arts tricking and b-boying in their routines, drawing comparisons to their predecessors, 2PM, which was known for their acrobatic moves.
GOT7 released their first extended play, Got It?, on January 20, 2014 which immediately shot to number 1 on Billboard's World Albums Chart and number 2 on the Gaon Album Chart. Four days prior to the release of their EP, GOT7 made their official music program debut on Mnet's M Countdown with their debut single "Girls Girls Girls".
On June 23, GOT7 released their second EP, Got Love, with the title track "A" written and produced by JYP Entertainment founder J.Y. Park. This time around, the group showed a brighter and more colorful image compared to previous releases.
In October of the same year, the group signed with Sony Music Entertainment Japan and made their Japanese debut on October 22 with their first Japanese single Around the World, which included the song "So Lucky", written and composed by labelmate Jun K. of 2PM. During their stay in Japan, GOT7 also held their first Japan tour titled "GOT7 1st Japan Tour 2014".
The group returned to South Korea a month later to release their first full-length studio album, Identify, in November which immediately topped local charts once more. They promoted Identify along with the album's title track "Stop Stop It". The album topped Gaon's Weekly Album Sales Chart in its first week, while "Stop Stop It" peaked at number 4 on Billboard's World Digital Songs chart.
2015: More EPs and Japanese releases
In January 2015, GOT7 received the "New Artist Award" at the 29th Golden Disk Awards and 24th Seoul Music Awards. Also in the same month, the group ventured into acting and starred in their own web drama Dream Knight, co-produced by JYP Pictures and Youku Tudou. The drama garnered almost 13 million hits in total and received the "Best Drama Award," "Best Director Award," and "Rising Star Award" at the K-Web Fest in July 2015.
On June 10, 2015, GOT7 released their second Japanese single Love Train, which debuted at #4 on the Oricon Singles Chart. The single contains the tracks "Love Train" and "O.M.G." as well as their respective instrumental renditions.
On July 3, 2015, they released their third EP, Just Right, with the title track of the same name. The EP peaked at number 3 on Billboard's World Digital Songs chart and stayed within the top three for two consecutive weeks. "Just Right" was also recognized as the group's most commercially successful single at the time.
Come September, GOT7 released another Japanese single, Laugh Laugh Laugh, including the B-side track "Be My Girl". It debuted at number 1 on the Oricon's singles chart and sold more than 35,000 album copies.
The release of their fourth EP, Mad, followed a few days later on September 29 alongside the music video for its title track "If You Do". Shortly after the release of Mad, GOT7 released their first repackaged album, Mad: Winter Edition, on November 23. The repackaged version contains three additional tracks – "Confession Song," "Everyday," and "Farewell".
2016: Flight Log: Departure and Flight Log: Turbulence, First Tour

GOT7 released their first full-length Japanese studio album on February 3, 2016 titled Moriagatteyo, which includes a lead single co-composed by their labelmate Jang Wooyoung of 2PM and a B-side track co-composed by Jun.K also of 2PM. Moriagatteyo peaked at number 2 on the Oricon charts and features 12 original Japanese songs, including three from GOT7's previous Japanese releases as well as Japanese versions of four of the group's Korean songs – "Girls Girls Girls," "A," "Stop Stop It," and "Just Right".

On February 15, 2016, GOT7 (and their labelmate Twice) were confirmed as new clothing ambassadors for NBA Style Korea.

On March 21, 2016, the group released their fifth EP, Flight Log: Departure, along with its title track "Fly". With the release of Flight Log: Departure, GOT7 became the first Korean act to chart on Billboard's Artist 100 since Psy (who peaked at #88), entering the chart at the 45th spot. The album also debuted at number 2 on the Billboard Heatseekers Album Chart and on the Billboard World Albums Chart. On April 12, the group released "Home Run" digitally. The song is the second title track from the Flight Log: Departure album and is co-written and co-composed by GOT7's leader, JB.

From April 29 to 30, GOT7 held their first solo concert in Seoul. Dubbed as the "Fly Tour", the concert continued on to China, Japan, Thailand, Singapore, and the United States throughout the summer of 2016.

The group's popularity in Korea also continued to rise and they went on to become brand models for IT'S SKIN in Thailand, BAUSCH+LOMB soft lens, and Est Cola in the first half of 2016. Members Mark, BamBam, and Jinyoung also starred in a short film for BAUSCH+LOMB titled "Sanctuary" and released in May 11.

On September 27, GOT7 released their second studio album titled Flight Log: Turbulence which contains 13 songs, including the lead single "Hard Carry". The members are credited in the composition and lyrics of 11 tracks on the album. Flight Log: Turbulence sold 200,000 copies in South Korea and debuted at #1 on Billboard's World Albums Chart. 
On November 16, the group released their first Japanese EP, Hey Yah, which took third place on the Oricon Charts and became GOT7's the first Japanese album where the members took art in writing and composing. The album features another track produced by Jang Wooyoung of 2PM, who has worked previously worked with the group in their Moriagatteyo album.

"Fly" landed on the 15th spot on Billboard's year-end World Albums chart, giving GOT7 their first appearance on the chart. They also ranked 6th on the Billboard year-end World Albums Artists chart, making them the highest-charting act other than BTS. To date, the only other Korean acts that made it to the year-end chart are BigBang's G-Dragon, SHINee, 2NE1, and EXO.

GOT7 also won the iQiYi Worldwide Favorite Artist Award at the 2016 Mnet Asian Music Awards, as well as Korea's Best Worldwide Act at the MTV Europe Music Awards.
2017: Flight Log: Arrival, 7 for 7
On January 13, 2017, GOT7 won a Disc Bonsang for their album Flight Log: Turbulence at the 31st Golden Disc Awards, followed by a Bonsang Award at the Seoul Music Awards and a Q1 Album of the Year award at the Gaon Chart Music Awards for their album Flight Log: Departure.
In February 2017, the group was selected as the latest celebrities to be part of the G+ Star Zone when it re-opened. The "zone" was decorated with life-size portraits of the members for the purpose of raising funds in their name to help financially disadvantaged teenagers.
On March 13, 2017, GOT7 released their final installment to their Flight Log trilogy, Flight Log: Arrival, featuring their hit single "Never Ever". The album sold 220,00 copies in pre-order alone, and totaled 310,000 by April 14, exceeding the total sales of Flight Log: Turbulence (230,000 copies). Flight Log: Arrival also placed first on Gaon and Hanteo's album charts in March, and topped Billboard's World Albums Chart.

On May 24, they continued with their Japan promotions and released a new single, "My Swagger", which topped Billboard's Japan Single Chart and placed 2nd on Oricon on the day of its official release.
On October 10, the group released their seventh EP titled 7 for 7 and began their promotions for the title track "You Are", which is co-written and co-composed by JB. It also features songs written and composed by the other members. Upon its release, "You Are" topped real-time music charts in South Korea.
Then on November 15 of the same year, GOT7 released another Japanese EP titled Turn Up and simultaneously held a concert tour in Japan called "GOT7 Japan Tour 2017: Turn Up". Their Japan tour, however, marks the first time their member Jackson was not able to participate due to health concerns and conflicting schedules.

On December 7, GOT7 re-released their EP, 7 for 7, as a holiday-themed "present edition" featuring new photos of each of the members. Alongside the release of 7 for 7, GOT7 also released a performance video for their B-side track "Teenager", also composed by JB.
At the yearend shows of Mnet Asian Music Awards for 2017, GOT7 won the World Performer award and Qoo10 2017 Favorite K-pop Star Award.
2018: World Tour, Reality Program, and Eyes On You
GOT7 welcomed 2018 with more award show wins with a Disc Bonsang for their album Flight Log: Arrival at the Golden Disc Awards and another Bonsang Award at the Seoul Music Awards. They also won the Hot Performance of the Year award and World Hallyu Star Award at the Gaon Chart Music Awards.
In February 2018, JYP Entertainment announced that GOT7 will be embarking on their first world tour. The group is set to visit 17 cities from May to August 2018 beginning with a three-day concert in Seoul. The tour also sets up GOT7 to be the first K-pop group (and second Korean act after Psy) to headline Brooklyn's Barclays Centre on their New York stop in July.
The group also starred in their own reality program titled "Working Eat Holiday in Jeju". Broadcast through Naver's V Live app, the program shows all seven members running a food truck business on the island featuring menu items they made themselves.
On February 28, GOT7 dropped their single "One and Only You", a pre-release track for their upcoming album Eyes On You scheduled for official release on March 12. The song features the vocals of former Sistar member, Hyolyn, who has previously collaborated with the group on the show Fantastic Duo 2.