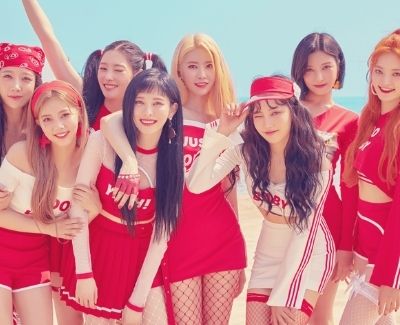 AOA is originally an eight-member girl group formed by FNC Entertainment in 2012 with members Choa, Jimin, Yuna, Youkyung, Chanmi, Hyejeong, Seolhyun, and Mina.
The group, however, is now promoting as a six-member unit following the termination of Youkyung's contract in October 2016 and Choa's departure in June 2017.
The group officially debuted on August 9, 2012 with a debut stage on M Countdown.
2012: Official debut, Angel's Story and Wanna Be
The eight original members of AOA were introduced individually through teaser photos released by FNC Entertainment from July 16 to 23 in this order: Seolhyun, Choa, Hyejeong, Chanmi, Yuna, Mina, Jimin, and Youkyung.
When they debuted, the group carried a "transformer" concept where the members appear alternately as a band playing instruments and as a dance group.
According to FNC Entertainment, seven of the members are "full angels" – Seolhyunari (Seolhyun), Choaya (Choa), Hyejeong Linus (Hyejeong), Chanmu T.T (Chanmi), Yunaria (Yuna), Minaring (Mina), and leader Jiminel (Jimin), while Y (Youkyung) is a "half-angel/half-mortal" and is only set to appear when the group promotes as a band.
This is one of the reasons why AOA refer to themselves as a "7+1" group.
On July 28, however, the "Angel's Story" was leaked, two days before the supposed official release. The music video for the group's title track "Elvis" was released on July 30, and AOA had their debut stage on August 9 on Mnet's M! Countdown and on KBS' Music Bank on August 10. Unfortunately, the track was not a success.
A few months later, FNC Entertainment confirmed that the group would be making a comeback with a second single album, "Wanna Be" on October 10.
The album cover this time depicted all eight members as different fictional characters from Kill Bil (Hyejeong)l, Léon (Jimin), Legally Blonde (Choa), Tomb Raider (Yuna), Harry Potter (Chanmi), Breakfast at Tiffany's (Mina) Romeo and Juliet (Seolhyun), and The Fifth Element (Youkyung).
In the latter half of 2012, the five-member band unit, AOA Black, would have a stage in the first week of promotions for "Get Out".
On October 10, AOA Black made their first comeback appearance on KM's Music Triangle where they performed the band version of "Get Out" for the first time. The unit also made their second appearance on Music Bank on October 12.
2013: Moya and Red Motion
On July 11, FNC Entertainment confirmed the comeback of AOA Black with their third single album, "MOYA". The album and the music video for the song were released on July 26 and the unit performed their first comeback stage on KBS' Music Bank on the same day.
After the summer release of AOA Black's "Moya", the group teased an autumn comeback for AOA. On October 3, a video teaser was released on YouTube, showing the members in their angel concept.
On October 9, they released the music video for "Confused", the title track for their single album Red Motion, which was released on October 13, together with an "eye contact version" dance practice clip.
The release also featured a second song, "We Belong Together", co-written by the leader of the group, Jimin.
2014: Miniskirt, Short Hair, and Like a Cat
On January 16, AOA came back with another sexy concept on their fifth single album "Miniskirt". The hit single, produced by Brave Brothers, ElephantKingdom, and Galactika, earned immense success for the group. On February 9, AOA took the first music show win with the song on SBS' Inkigayo.
On June 19 of the same year, the group released the title track "Short Hair" for their first mini album of the same name. The album ranked number 1 on domestic charts and topped the M Countdown chart for the month of July.
The music video for "Short Hair" also ranked eighth on Billboard's "Most Viewed K-pop Videos Around the World" for June 2014.
For the "Half-Year Special" Edition of Music Bank on June 27, AOA performed Girls' Generation's "Mr. Mr." alongside groups BESTie and Girl's Day.
On November 11, they released their second mini album, Like a Cat, and bagged their second music show win on November 19 for the title song of the same name on Show Champion.
2015: Heart Attack and Ace of Angels
On February 25, 2015, AOA released a Japanese single featuring Japanese version of their songs "Like a Cat," "Elvis," and "Just the Two of Us," with a short version music video of "Like a Cat" being pre-released by FNC Entertainment weeks prior to the official release of the single.
The video ranked number 1 on Gayp! in terms of daily and weekly views, while the single ranked 6th on Oricon Daily Chart and 1st on Tower Records Shibuya on the first day of its release.
On February 26, the group's first reality show, "Open Up! AOA" premiered on Naver. The series aired a total of 10 episodes, each running for 10 minutes, and featured all eight members of the group.
On April 7, shortly after the conclusion of Open Up! AOA, the group started filming their new variety show with MBC called AOA One Fine Day in Nanwan Monkey Island in Hainan, China, set to air on June 13.
On June 2, AOA confirmed the release of their third mini album, Heart Attack, with the lead single of the same name composed by Brave Brothers.
They released the album of June 22 and held a showcase on the same day at the AX Hall in Seoul. The group began music show promotions of "Heart Attack" on June 25 with a stage on M! Countdown, followed by performances on Music Bank, Music Core, and Inkigayo, then bagged a music show win on July 1 on Show Champion.
AOA also released a Chinese version of "Heart Attack" on July 31 through Baidu Music, Sina Music, QQ Music, and Taiwan's KKBOX. And on July 29, they released a Japanese version of the single with an accompanying music video.
The single was then released in eleven different versions: two limited CD+DVD editions, two limited CD-Photobook editions, and seven limited CD only editions (one edition per member).
In August 2015, the group was part of the lineup of KCON 2015 in Los Angeles and New York, marking their first performances in the United States. In the same month, it was confirmed that AOA will be having a Japanese comeback with a full-length album, the group's first ever full-length release.
The album features all of AOA's eight previous Japanese releases, plus three new songs, including the title track "Oh Boy". The album was released on October 14, 2015.
At the end of the year, member Seolhyun was chosen to host the 2015 KBS Entertainment Awards alongside comedian Shin Dong Yup and singer Sung Si Kyung.
2016: AOA Cream, Good Luck, and Youkyung's departure
On January 1, 2016, FNC Entertainment that AOA will be having a comeback in the first half of the year and that AOA Black is also set to release new music.
At the end of the month, the agency also revealed in an interview that members Chanmi, Hyejeong, and Yuna will promote as a new unit group and are expected release a song in February. On January 31, they announced that the new sub-unit will be called AOA Cream, which will debut on February 12. The following day, they released teasers for the upcoming title track "I'm Jelly Baby," composed by Black Eyed Pilseung.
On March 3, member Jimin made her solo debut with the song "Call You Bae" featuring EXO's Xiumin.
On April 12, AOA hosted their own reality show, OnStyle Live – Channel AOA, a television series featuring stars hosting their own live shows.
On May 1, FNC Entertainment announced AOA's upcoming fourth mini album, Good Luck, to be released on May 16 with the title track of the same name.
AOA promoted "Good Luck" on various music shows such as Music Bank, Show! Music Core, and Inkigayo. It was considered a commercial success, peaking at number 2 on the Gaon Digital Chart for selling more than 545,000 digital copies as of July 2016.
To celebrate their 4th anniversary since debut, AOA members posted on their respective Instagram accounts a picture of their message to Elvis, their fandom name, on a piece of paper. The group also surprised their fans with the release of a 'making film' video of "Cherry Pop".
On October 15, FNC Entertainment announced that Youkyung had left the agency following the end of her contract. The label, however, clarified that she would still be a guest member in any future AOA Black activities. Shortly after the announcement, Jimin posted a photo of all remaining eight members on Instagram with the caption "AOA".
In November of the same year, the agency announced that AOA was preparing for their first studio album to be released during the winter. Jimin later told their fans to look forward to the album since it would include a song for them.
2017: Angel's Knock and Choa's departure
AOA released their first Korean studio album, Angel's Knock, both digitally and physical on January 2, 2017. The album came more than four years after the group's debut and features two title tracks – Excuse Me and Bling Bling.
The title tracks present two different concepts and were simultaneously promoted by the group on various music programs during their comeback week. Also included in Angel's Knock are Korean versions of their previous Japanese releases, "Give Me the Love" and "Oh Boy".
"Excuse Me" charted at number 22 on the Gaon Digital Chart, while "Bling Bling" debuted and peaked at number 45. The release of the album also marked the group's first comeback since the departure of Youkyung in October 2016.
Although touted as their worst performing comeback since the release of "Confused" in 2013, the album was considered a commercial success, selling 36,655 copies as of February 2017.
On June 22, Choa announced her departure from the group. FNC Entertainment denied the statement at first, but later confirmed that Choa had left the group on June 30.
In November 2017, AOA attended an event in Incheon, where they were appointed as goodwill ambassadors for the 2018 Pyeongchang Winter Olympics.
2018: Bingle Bangle
FNC Entertainment confirmed on April 18 that AOA will be returning as a group of 6, following Choa's departure in 2017.
On May 28, they released their fifth mini album, Bingle Bangle, along with the title track of the same name.