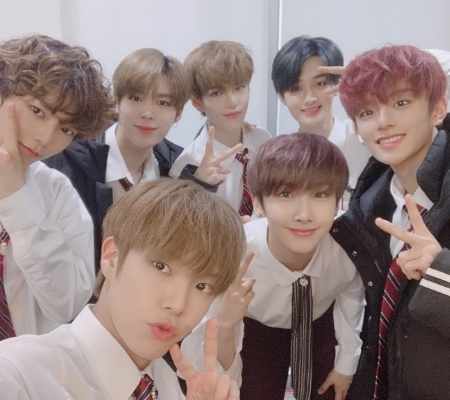 VERIVERY (also abbreviated as VRVR) is an all-male idol group formed by Jellyfish Entertainment in 2018. The group is composed of seven members – Dongheon, Hoyoung, Minchan, Gyehyeon, Yeonho, Yongseung, and Kangmin. They officially debuted on January 9, 2019 with the release of their debut extended play (EP), Veri-Us.
2018: Formation and pre-debut
Jellyfish Entertainment confirmed on August 23, 2018 their plans to debut a seven-member boy group, which was later revealed to carry the name VERIVERY. The group is set to be the label's first boy group to debut in six years since VIXX.
The group's name was derived from the Latin word "very" meaning 'truth' and the English word "very". VERIVERY then is described to be a combination of the words "various," "energetic," "real," and "innovation".
Prior to their official debut, Mnet announced on September 3 that the group would star in their own reality show, Now Verivery: Real Road Movie. The official soundtrack for the show, "Super Special," was released on September 21 alongside the airing of the show.
2019 to present: Official debut
VERIVERY officially made their debut on January 9 with the release of their first EP, Veri-Us, featuring the title track "Ring Ring Ring" and four other tracks including an acoustic version of "Super Special" which was previously released on their reality show in 2018.
The group's first official stage was on Mnet's M! Countdown where they promoted for about a month.
On February 23, they released a self-produced version of the music video for "Ring Ring Ring".
On April 7, the group announced their comeback with the release of their second mini album, Veri-able, on April 24. The album will feature a total of six songs along with the title track, "From Now".