DAY6 is a South Korean boy band formed by JYP Entertainment in 2015. The band was originally composed of six members – Jae, Sungjin, Young K, Wonpil, Dowoon, and Junhyeok. They are currently promoting as a five-member group after the departure of Junhyeok in February 2016. The band officially debuted with their first mini-album, The Day, on September 7, 2015.
2014 to 2016: Formation and official debut
JYP Entertainment initially announced their plans to debut a five-member band called 5LIVE, composed of members Sungjin, Jae, Young K, Junhyeok, and Wonpil. The group began promotions in 2014 with an appearance on the fourth episode of Mnet's reality survival program Who Is Next: Win where trainees from JYP Entertainment and YG Entertainment went up against each other.
Following their participation in Who Is Next: Win, the group released a song titled "Lovely Girl" as part of the original soundtrack of the television series Bel Ami.

In 2015, drummer Dowoon was added into the lineup and the band was renamed DAY6.
DAY6 released their debut Ep, The Day, on September 7, 2015, featuring the lead single "Congratulations".
On February 27 of the following year, their agency announced that member Junhyeok has decided to leave the band due to personal reasons and terminated the contract with the company. After Junhyeok's departure, the group kept their name and remained as a five-member band.
On March 30, 2016, they released their second EP, Daydream, with the title track "Letting Go". The next day, they made their official stage debut on Mnet's M! Countdown, six months after their initial debut.

2017: Every DAY6
On December 29, 2016, DAY6 announced their monthly project for the year 2017, called Every DAY6. With the project, the band will be releasing two songs on the sixth day of every month. Aside from this, they are also set to have concerts before the release of the songs.
On January 6, 2017, the group released their first monthly single, "I Wait," and the sidetrack "Goodbye Winter". It was followed by their second monthly single, "You Were Beautiful" and "My Day" on February 6.
The third monthly release featuring the lead single "How Can I Say" and the sidetrack "I Would" was released on March 6. DAY6 held promotions on Mnet's M! Countdown for their March release. This was then followed by the release of their fourth monthly single which features the songs "I'm Serious" and "Say Wow".
On May 6, they released their fifth monthly single consisting of the lead single "Dance Dance" and the sidetrack "Man in a Movie".
In June 2017, in the middle of their Every DAY6 project, the band released their first full-length album, Sunrise. The album contains a total of 14 tracks including the releases from January to May, as well as two new tracks: "I Smile" as the lead single, "Lean On Me," the rebooted version of "Letting Go," and the final version of "Congratulations." On the same day, they announced the official name of their fan club – "My Day".
For the month of July, DAY6 released the songs "Hi Hello" and "Be Lazy," while their August release consists of "What Can I Do" and "Whatever!" Their September single features the songs "I Loved You" and "I'll Remember".
For the October installment of the group's Every DAY6 project, they released the lead single "When You Love Someone" and the B-side "I Need Somebody". They were followed by music videos featuring a three-part story about high school friendship and love for their August, September, and October releases.
Later in October, DAY6 embarked on their North American meet and greet tour, DAY6 Live & Meet in North America 2017. The tour was hosted by SubKulture Entertainment and started in Los Angeles on October 20. It then continued to other cities such as Austin on October 22, New York on October 24, Detroit on October 27, and Toronto on October 29.
On November 6, DAY6 resumed their Every DAY6 project with the release of the songs "All Alone" and "Pouring". Later that month, JYP Entertainment announced the band's first nationwide tour, Every DAY6 Concert Nationwide Tour, in 2018.
On December 6, the group officially concluded their monthly project with the release of their second full-length album, Moonrise. The album featured all songs released from July to November, as well as the tracks "I Like You," "Better Better," "I'll Try," and the final versions of the B-sides from their debut mini-album The Day.
2018: Japanese debut and first world tour
At the start of 2018, DAY6 announced the recruitment of the first-generation of their fan club from January 5 to January 25.
Later in January, they commenced their first nationwide concert tour, beginning with the Busan stop on January 20 to 21 and followed by Daegu on January 27, and Daejeon on February 10.
On February 2, DAY6 released the music video for their first Japanese single "If ~また逢えたら~," which was also chosen to be the theme song for the Japanese drama Repeat. It was also revealed that the band will officially make their Japanese debut on March 14.
Prior to the start of their Japanese promotions, DAY6 held their Every DAY6 Finale Concert — The Best Moments on March 3 and 4 in the Olympic Hall.
On June 13, the band held their first Japanese concert, DAY6 1st Live in Japan 'The Best Day' at Tsutaya O-East in Tokyo.
DAY6 also released their first greatest hits album in Japan in June 2018, The Best Day, featuring the band's previous Korean singles as well as the new versions of thee tracks — "Congratulations" and "You Were Beautiful" in English and "Wait" in Japanese.
Later in the month, they dropped their third EP, Shoot Me: Youth Part 1, the first part of the group's Youth series that will feature 3 EPs. Shoot Me: Youth Part 1 consists of seven songs, with the lead single "Shoot Me".
In July, they returned to Japan with the release of their second Japanese single, "Stop the Rain," which was produced by Japanese guitarist Ubukata Shinichi of ELLEGARDEN and Nothing's Carved In Stone. This was followed by their first Japanese studio album, Unlock, on October 17, 2018.
After the release of Unlock, DAY6 released the second installment of their Youth series — Remember Us: Youth Part 2 — on December 10, featuring the title track "days gone by".
In between releasing albums both in Korea and Japan, DAY6 also embarked on their first world tour, titled Youth. The tour ran from June 22, 2018 to January 29, 2019, and brought the band to 24 cities in Asia, Australia, America, and Europe.
2019: The Book of Us series and second world tour
On January 10, 2019, DAY6 announced the start of recruitment for the second-generation of their fan club through their YouTube channel.
They released the fifth EP, The Book of Us: Gravity on July 15, for which they received their first-ever music show win on July 24 for the title track "Time Of Our Life".
On August 9, DAY6 embarked on their second world tour, titled Gravity, beginning with a three-day concert at the Jamsil Indoor Stadium in Seoul. The group went on to perform in 25 other cities in Asia, North America, Australia, and Europe until January 31, 2020.
On October 22, DAY6 released their third studio album in Korea, The Book of Us: Entropy, featuring the lead single "Sweet Chaos" composed by members Jae, Sungjin, Young K, and Wonpil and with lyrics also written by Young K.
The album peaked at number 4 on the Gaon Albums chart and at the end of 2019, "Sweet Chaos" was ranked number 2 in Refinery29's list of The Best K-Pop songs of 2019.
Day 6 Members
Young K
Born Kang Young-hyun, he is most popularly known by his stage name Young K. He is a musician, singer, songwriter, and rapper best known as the bassist, vocalist, and rapper of South Korean rock band Day6.
Personal life
Young K was born on December 19, 1993 in Ilsan, South Korea. He moved to Toronto, Canada to attend high school at York Mills Collegiate Institute, during which he went by his English name, Brian Kang.
On October 5, 2017, he received his bachelor's degree in Business Administration from Dongguk University.
Career
2010 to 2014: Pre-DAY6 Debut
During his time in high school, Young K pursued music and was part of a three-member band called "3rd Degree". They performed at various locations in Toronto and put up videos on YouTube, including some original songs he composed.
In 2010, he and his bandmate, Don Lee, were contacted by JYP Entertainment for an audition and were both accepted as trainees. Lee, however, left JYP to pursue medical studies, while Young K went on to appear in the fourth episode of the show WIN: Who is Next? as a part of JYP's rapping team with GOT7's Mark Tuan and Jackson Wang. They went up against the combined rapping teams of Team and Team B, where he became known for the verse, "YG, get an attitude!" Young K also became part of JYP's vocalist team together with eventual Day6 bandmates Junhyeok, Jae, Sungjin, and Wonpil.
2014 to present: With DAY6
In 2014, Young K was selected as a member of the five-member rock band 5Live under JYP Entertainment, but their debut was canceled. The band was then reformed as Day6 after the addition of drummer Dowoon a year later, officially debuting on September 7, 2015, with the release of the extended play (EP) The Day.
Young K was credited with a lot of the songwriting in the band's discography.
Solo activities
In 2019, he composed and contributed lyrics to a track for the solo debut of B.A.P's Youngjae, called "Hope". He has also previously featured as a rapper in various labelmates' singles such as Baek A-Yeon's "Shouldn't Have" and Park Ji-min's "Young" that were both released in 2015.
Young K also ventured into acting with cameo roles in both seasons of KBS' Dream High in 2011 and 2012, as well as Naver TV Cast's web series, Touching You, in 2016.
In 2020, Young K started releasing cover performances on DAY6's YouTube channel, beginning with his version of the song "Face to Face" by Sydney-based singer-songwriter Ruel. It was followed by his cover of the songs "Honesty" and "What Am I" by American artists Pink Sweat$ and Why Don't We, respectively.
He also appeared as a special DJ on the 512th episode of MBC's Idol Radio along with bandmate Wonpil.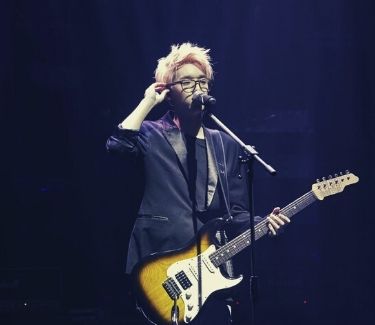 Where is Day6 based out of?
They are based in Seoul, Korea
Who is the oldest member of Day6?
Jae is the oldest member of Day6
Who is Day6′ Maknae (youngest member)?
Dowoon is the youngest member of Day6
King of Masked Singer Appearances
Wonpil
Young K
What is the Fandom Name for Day 6?
Their fandom name is "My Day"