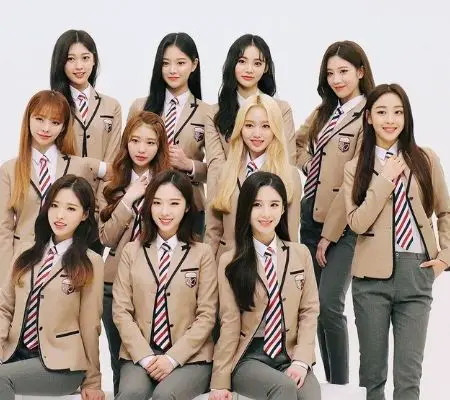 LOONA is an all-female idol group signed under Blockberry Creative. The group consists of twelve members – Haseul, ViVi, Yves, JinSoul, Kim Lip, Chuu, Heejin, Hyunjin, Go Won, Choerry, Olivia Hye, and Yeojin – individually revealed to the public through a "Girl of the Month" series.
Beginning August 31, 2016, each member released a promotional solo single within the next 18 months, while also forming three subunits – LOONA 1/3, LOONA Odd Eye Circle, and LOONA yyxy – that were introduced through their respective extended plays (EPs).
On August 20, 2018, the group officially debuted as a full group (LOONA ++) with the release of their title track "Hi High".
2016 to 2018: Pre-debut project and official debut
On October 2, 2016, Blockberry Creative announced that they would be debuting their very first girl group through an 18-month long pre-debut project.
Following the announcement, four members were then revealed between October 2016 and January 2017 – HeeJin, HyunJin, Ha Seul, and YeoJin – with each member releasing their respective single albums.
They subsequently introduced the group's first sub-unit, Loona 1/3, composed of members HeeJin, HyunJin, HaSeul, and a new member, ViVi. On March 13, Loona 1/3 released their first extended play (EP), Love & Live, with the lead single of the same name, and officially began unit promotions the day prior with a performance on SBS' Inkigayo.
On April 27, Loona 1/3 released a repackaged edition of their EP, called Love & Evil, featuring three new songs and the title track "Sonatine".
From April to July 2017, members ViVi, Kim Lip, JinSoul, and Choerry were introduced to the public with the release of their solo single albums.
In September 2017, of the eight members that were so far revealed, three auditioned for JTBC's reality program MIXNINE – HeeJin, HyunJin, and HaSeul. Two of them, HeeJin and HyunJin, passed the audition and made it onto the show, with HyunJin eventually placing 18th and HeeJin ranking 4th in the finale.
On September 21, 2017, the group's second sub-unit was introduced – Loona Odd Eye Circle – composed of members JinSoul, Kim Lip, and Choerry. They released their EP, Mix & Match, on the same day and began promotions on Mnet's M! Countdown with the title track "Girl Front".
On October 23, "Loonatic," another single from Mix & Match, was released in English. And on October 31, Odd Eye Circle released a repackaged edition of their EP, titled Max & Match, with three additional songs, including the lead single "Sweet Crazy Love".
Between November 2017 and January 2018, new members Yves, Chuu, and Go Won were revealed through the release of their solo single albums. And in March 2018, the solo single album for final member Olivia Hye was released.
The group debuted their third sub-unit, Loona yyxy, on May 30, 2018 with the release of Beauty & the Beat. The music video for the EP's lead single, "love4eva," featuring Canadian musician Grimes, was released on the same day.
On August 7, 2018, LOONA released the song "Favorite," the title track of their full-group EP, ++. The release of ++ marks the group's debut as a full group and serves as the conclusion of their pre-debut project. The EP was officially released on August 20, 2018, along with the second single "Hi High".
LOONA Masked Singer Appearances