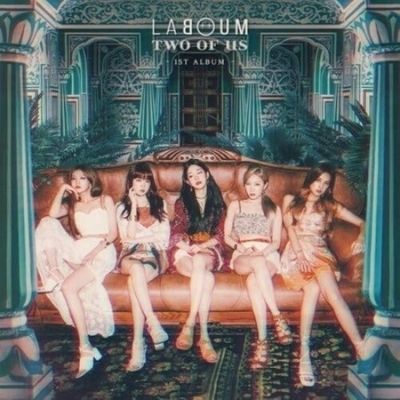 Laboum is an all-female group signed under Global H Media, a joint venture of NH Media and Nega Network. The group's name comes from the French word which means "The Party". Laboum originally debuted with six members in August 2014 with their debut single album, Petit Macaron. They are currently promoting with five official members – Yujeong, Seyeon, ZN, Haein, and Solbin.
2014: Official debut
In August 2014, NH Media and Nega Network officially announced that they will be debuting a girl group called Laboum whose members have reportedly been training for four years. The group was being referred to as the sister group of NH Media's U-KISS and Nega Network's Brown eyed Girls.
On August 28, 2014, Laboum released their debut single album, Petit Macaron, following the release of the music video for the title track "Pit-A-Pat" a day prior. The song was written by Song Ji-eum, who was also credited for the hit songs "Electric Shock" by f(x) and "Twinkle" by the Girls' Generation sub-unit, TaeTiSeo (TTS).
On October 24, Laboum announced that they will be making a comeback with Petit Macaron DATA PACK, a new version of their Petit Macaron album accompanied by extra digital content and a reworked version of the song "What About You?"
Laboum held a comeback performance on Music Bank on October 31 and released the music video for "What About You?". Petit Macaron DATA PACK was officially released on November 3.
2015: Sugar Sugar and Aalow Aalow
In February 2015, member ZN was chosen to star opposite U-KISS' Kevin in "Milky Love," a two-episode segment of the omnibus web drama About Love, released on March 2 via Naver TV Cast.
Laboum announced on March 16 that they are preparing for to come back with a "mature yet refreshing" concept for the song "Sugar Sugar". Their second single album of the same name was released on August 14.
In May, member Yujeong was a guest of the popular radio program Kiss the Radio hosted by Super Junior. And in June, member Solbin was cast in the variety series Her Secret Weapon, a program that focuses lesser-known girl group members and ranks them based on their performances of certain tasks. Among the 10 contestants, Solbin tied with Taeha of Berry Good for 6th place.
On November 15, Laboum uploaded a music video teaser for their comeback single "Aalow Aalow" on the group's official YouTube channel. The full video was released on December 1, followed by a comeback stage on Music Bank on December 4. The album was officially released on December 6.
2016: Makestar campaign, Fresh Adventure and Love Sign
Laboum launched a campaign on February 15, 2016 to fund their upcoming music video through the crowdfunding platform Makestar. They offered an "Honorary Producer" title in the music video credits as part of the rewards for those who donated over a certain amount. In just four hours, the campaign reached its goal of $8,261, and ultimately raised a total of $27,832 (33639% of its original goal).
On April 6, Laboum released the music video for their song "Journey to Atlantis," which is the title track of their fourth single album, Fresh Adventure.
On August 23 of the same year, Laboum released their first mini album, Love Sign, containing six tracks, including the title track "Shooting Love." This was followed by the release of their winter digital single, Winter Story, on December 2.
2017: Miss This Kiss, The Unit, and Yulhee's departure
On April 17, Laboum released their second mini album, Miss This Kiss, with the lead single "Hwi Hwi." The group took home their first ever music show win with the song on KBS' Music Bank on April 28. Once again, the album was crowdfunded through the Makestar platform, raising a total of $75,751.58 (849.93% over its original goal).
Three months later, the group released their summer digital single, Laboum Summer Special, with "Only You" as the title track.
Masked Singer Appearances