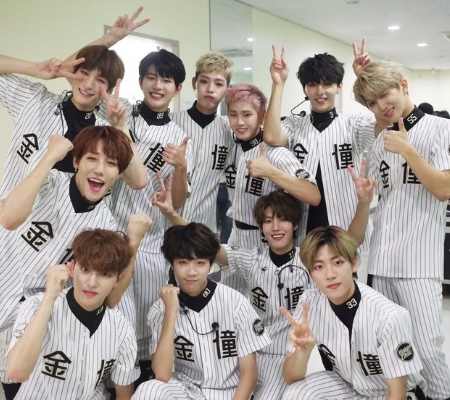 GOLDEN CHILD, also known as GNCD or GolCha, is an all-male boy band formed by Woollim Entertainment in 2017. The group is originally composed of 11 members – Daeyeol, Y, Jangjun, TAG, Seungmin, Jaehyun, Jibeom, Donghyun, Joochan, Bomin, and Jaeseok. They made their official debut on August 28, 2017 with the release of their first mini album, Gol-Cha!, and is currently promoting as a 10-members group after the departure of Jaeseok in January 2018.
Pre-debut
Woollim Entertainment first launched a pre-debut project for their trainees in January 2017, called the W Project, where six members of Golden Child (Joochan, Jangjun, TAG, Daeyeol, Donghyun, and Jaeseok) were selected and first introduced to the public.
On May 15 of the same year, the agency launched their newest boy group, Golden Child, the first boy group to debut from Woollim since Infinite in 2010. Two days later, the names of all eleven members were revealed. And on May 22, Woollim Entertainment released "class photos" for the group, as well as confirmed their appearance in their own reality show, 2017 Woollim Pick. On August 9, Golden Child was announced to be making a cameo appearance as a group in the drama 20th Century Boy and Girl.
2018 to present: Jaeseok's departure and KCON NY
On January 6, 2018, Woollim Entertainment announced the departure of member Jaeseok due to health issues, while the ten remaining members continued with their preparations for the release of their second mini album, Miracle, on January 29.
Miracle contains a total of six tracks including the title track, "It's U". The group also held a comeback showcase at the Blue Square iMarket Hall on the same day of the album's release.
After wrapping up promotions for "It's U," Golden Child continued their activities with the promotions of "Lady" beginning with the release of the song's music video. The group officially finished their three-month promotions on April 13.
On May 4, Golden Child announced their official fandom name – Goldeness – and on May 9, they were confirmed as part of the lineup of artists at KCON NY 2018.
The group held their first fan meeting, titled "Golden Day," in Seoul on May 22 to celebrate their first debut anniversary. It was also followed by two more fan meets in Nagoya and Tokyo on May 24 and 25, respectively.
On July 4, Golden Child released their first single album, Goldeness, which features a total of three tracks, including the lead single "Let Me".