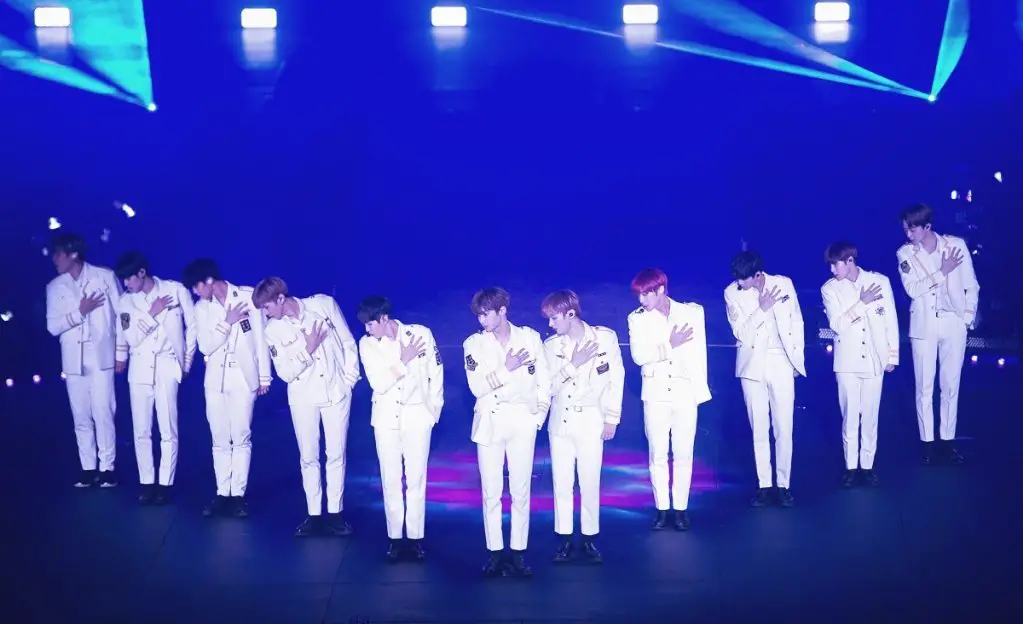 SEVENTEEN, or SVT, is a South Korean boy band from Pledis Entertainment.
The group is composed of 13 members divided into three sub-units – S.Coups, Wonwoo, Mingyu, and Vernon (Hip Hop Unit); Woozi, Jeonghan, Joshua, DK, and Seungkwan (Vocal Unit); Hoshi, Jun, The8, and Dino (Performance Unit).
They officially debuted in 2015 and has since been known in the industry as "self-producing" idols with all the members taking part in the composition and production of their songs, as well as their choreography.
2013-2015: Pre-debut
Prior to their debut, SEVENTEEN has appeared on Seventeen TV in 2013, a live broadcast show on the online streaming site, UStream.
The show has several seasons where the Pledis trainees were introduced and shown practicing various performances. Some of the seasons also showcased the members in concerts called Like Seventeen.
SEVENTEEN also appeared in Seventeen Project: Big Debut Plan, a reality TV show broadcasted on MBC from May 2 to 26, 2015.
It showed members of the group completing various missions such as writing songs, choreographing dances, producing their own routines, and even inviting people them perform in public venues.
For each mission, guest judges are invited to give their feedback on the group's performance. The premise of the show is to determine whether SEVENTEEN can formally debut as a group with a live showcase on MBC.
2015: Official debut, 17 Carat, and Boys Be
On May 26, 2015, SEVENTEEN's live showcase was televised by MBC. They were the first male K-pop group to officially debut with a one-hour live showcase on a major broadcasting channel. Their labelmates Lizzy and Raina (of After School) served as the MCs of the show.
Three days after their debut, SEVENTEEN digitally released their first extended play (EP), 17 Carat. It became the longest-charting K-pop album in the US for the whole 2015 and was the only rookie album to appear on Billboard's "10 Best K-pop Albums of 2015" chart.
On September 10, they released their second EP, Boys Be. It continued SEVENTEEN's success as it became the highest-selling rookie album of the year.
Boys Be also earned the group their first slew of major awards at the Golden Disk Awards, Seoul Music Awards, and Gaon Chart K-pop Awards. Furthermore, SEVENTEEN was the only K-pop group on Billboard's "21 Under 21 2015: Music's Hottest Young Stars" list.
From December 24 to 26, SEVENTEEN held a four-date concert series in Seoul titled "2015 Like Seventeen – Boys Wish" as their end-of-year celebration.
The concerts' success heralded two more concerts for the group in February 2016, called "Like Seventeen – Boys Wish Encore Concert".
2016: First full-length album and Asian tour
SEVENTEEN announced their official fan club name – Carat – on February 14, 2016.
On April 25, they released their first full-length album, Love & Letter. Aside from domestic success in South Korean charts, the album also charted on the Oricon Weekly Pop Album Charts in Japan.
The title track, "Pretty U", earned the group their ever music show win since debut.
Love & Letter was later released as a repackaged album on July 4 alongside the lead single "Very Nice". After the release and promotions for the repackaged album, the group embarked on "SEVENTEEN's 1st Asia Tour 2016 Shining Diamonds". The concert tour included venues in South Korea, Japan, Singapore, China, and Australia.
On October 6, 500 days since their debut, SEVENTEEN announced their official fandom colors – rose quartz and serenity.
On December 5, the group released their third EP, Going Seventeen, which outsold their previous release, Love & Letter.
SEVENTEEN's strong start early in their career brought the group several year-end awards within one year of their debut.
They won Rookie of the Year awards from the Golden Disk Awards, Gaon Chart Music Awards, and Seoul Music Awards in 2016, as well as the Best World Performer Award at the Mnet Asian Music Awards.

2017: Rising popularity and first world tour
On January 10, SEVENTEEN announced their plans of holding their first ever domestic fan meeting. Titled "SEVENTEEN in CARAT LAND', the event was scheduled on February 10 to 12 at the Jamsil Arena.
Their very first fan meeting was followed by a concert tour from February 15 to 24 in Japan. SEVENTEEN held a total of six concerts called "17 Japan Concert: Say the Name #Seventeen".
The concert series attracted 50,000 attendees, a considerable number for a group that hasn't officially debuted in Japan yet.
On April 1, they became the first idol group to appeared for the second time in the show One Fine Day. SEVENTEEN filmed the episodes for their second season of One Fine Day during their stay in Japan for their concert series.
The new season, with the title One Fine Day in Japan, was a collaboration between South Korea's MBC and Japan's Music On! TV.
On May 11, Pledis Entertainment released a video teaser on the group's Instagram page as a lead-up to their fourth EP, Al1. The first teaser video features member Vernon holding a compass and walking on a deserted road.
Within the next five days, twelve other videos featuring the remaining 12 members were released by the agency. Al1 was officially released on May 22, alongside the music video for the lead single "Don't Wanna Cry".
After Al1 promotions, SEVENTEEN embarked on their first world tour called "2017 Seventeen 1st World Tour 'Diamond Edge'".
From July 14 to October 6, 2017, the group held a total of 17 shows in 14 different cities including Seoul, Saitama, Bangkok, Hong Kong, Chicago, Dallas, Toronto, Santiago, New York, Kuala Lumpur, Jakarta, Singapore, Taipei, and Manila, with over 200,000 fans in attendance.
In August, the group took a break from their "Diamond Edge" tour and joined several other idol groups in KCON 2017 LA, the largest annual K-pop event in the United States. The group closed the out one night of the two-day event held at the Staples Center before resuming their North American tour.
Towards the end of their "Diamond Edge" tour, SEVENTEEN started releasing a series of videos for their 2017 Seventeen Project subtitled "Chapter 0.5 Before Al1".
The project included teaser videos of 4 different songs featuring each of the group's sub-units and a newly formed one called "SVT Leaders" composed of the leaders of each sub-unit – S.Coups, Woozi, and Hoshi. The songs were later revealed to be part of SEVENTEEN's comeback album, Teen, Age.
Teen, Age, SEVENTEEN's second full-length album, was released on November 6, along with the music video for the title track, "Clap".
The album set a new record for SEVENTEEN after selling more than 215,000 copies in its first week, while the music video for "Clap" is currently the group's second most-viewed video on their YouTube channel after "Don't Wanna Cry".
At the year-end award shows, SEVENTEEN their second Best Artist Award from Asia Artist Awards, Worldwide Favorite Artist and Best Dance Performance by a Male Group (for "Don't Wanna Cry") at the 2017 Mnet Asian Music Awards, and Bonsang Awards from Golden Disk Awards and Seoul Music Awards for Love & Letter.

2018: Director's Cut
SEVENTEEN welcomed 2018 with a couple more Bonsang Awards from Golden Disk Awards and Seoul Music Awards, this time for their latest album Teen, Age.
On February 2 and 3, they held their second fan meeting at Jamsil Indoor Stadium, which was once again called "SEVENTEEN in CARAT LAND".
The group prepared various performances of their old songs and an exclusive preview performance of their upcoming comeback song, "Thanks". It also marked the return of Performance Unit member The8 who went on a short hiatus due to a back injury.
On February 5, SEVENTEEN officially released their special album, Director's Cut. The album contains all 13 songs from Teen, Age, plus 4 new songs including the title track "Thanks".
SEVENTEEN is scheduled to have another concert tour in Japan from February 21 to March 7, 2018 titled "Seventeen 2018 Japan Arena Tour 'SVT'". The tour will be held in three different cities – Yokohama, Osaka, and Nagoya – with two concert dates for each.
SEVENTEEN Member Profiles
Hip Hop Unit
S.Coups
Wonwoo
Mingyu
Vernon
Vocal Unit
Woozi
Jeonghan
Joshua
DK
Seungkwan
Performance Unit
Hoshi
Jun
The8
Dino